Regular price
Sale price
$54.00 USD
Unit price
per
Sale
Sold out
The Millennial Tarot deck is a unique and enchanting take on the traditional Rider-Waite tarot deck, featuring original artwork and Millennial-inspired names and symbols. This tarot deck includes all of the original cards of the Rider-Waite deck, with additional content added to make their meanings more relevant, accessible, and understandable. This deck is perfect for both tarot beginners and experienced readers, as it provides a deeper understanding of the cards while maintaining the traditional meanings.
The online guidebook included with the deck offers clear, easy-to-apply guidance on the upright meaning of each card, written with a humorous and on-point tone. The deck also includes trigger-free language, making it accessible and safe for all users. The imagery in the cards showcases LGBTQIA, multi-racial, body size, and accessibility diversity, reflecting the beauty and diversity of the Millennial generation.
Each card in the 78-card deck has been reimagined with a modern twist, while still maintaining representation of the original suits – wands, cups, swords, and pentacles – so you'll never forget which card you're looking at. The suits have been renamed with Millennial-inspired terms – Vibes for wands, Feels for cups, Thoughts for swords, and Swag for pentacles – and the Major Arcana features contemporary references such as "The F$ck Boy" for The Devil and "Quarter-Life Crisis" for Judgement.
In addition to its stunning and humorous designs, this tarot deck captures the mystical essence of tarot and perfectly embodies the challenges of adulting as a Millennial. Each card has subtle astrological and elemental associations, as well as a TLDR description to help the reader understand the meaning of its numerology. The suits are also colored with the essence of their associated elements, adding depth to their meanings. The border is adorned with a beautiful ambre color and the card titles feature a designed trim specific to their element. The back of each card features a beautiful avocado in the cosmos with iconography of the four suits, representing the Millennial generation. The back of each card is symmetrical vertically, so when the cards are being shuffled and placed in their spreads, you cannot tell if the card is upright or reversed until flipping it, making the mystery and intrigue of the reading more suspenseful and intriguing.
The Millennial Tarot deck is designed and manufactured in New York with high-quality materials. It comes with spreads to practice with and an online guidebook with Millennial-friendly interpretations of each card. The cards themselves are crafted with high-quality materials, double-sided, and measure 3.5" x 5.5" with rounded corners. The box is also designed for practicality, with a tuck lid that makes it easy to take on the go.
This tarot deck is perfect for anyone looking to add some humor and lightness to their readings. People love to use this tarot deck with friends who are hesitant to try tarot, as it is approachable and easy to understand. It's ideal for Millennials (ages 25-40) but can be enjoyed by tarot lovers of all ages. Order now and let the magic of tarot guide your journey... or at least give you a good laugh!
Purchase includes deck only.
Shipping & Returns

Shipping calculated at checkout.

Free US shipping for orders over $100.

All Sales Final.
Share
View full details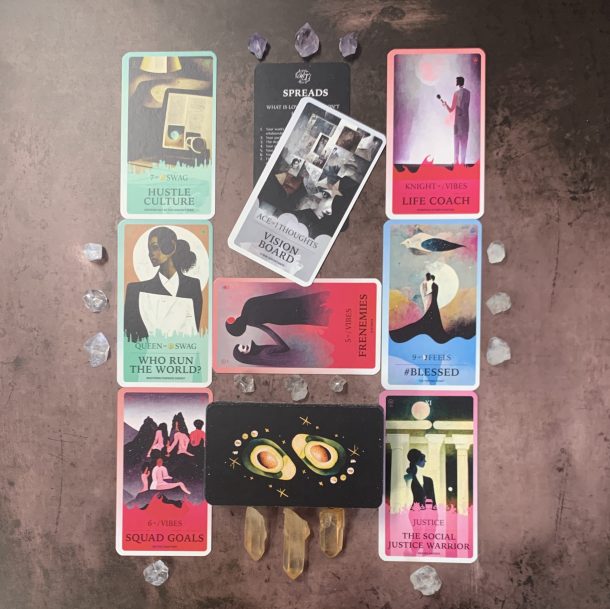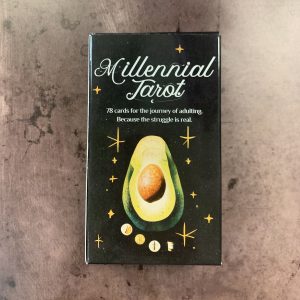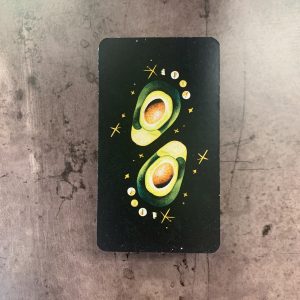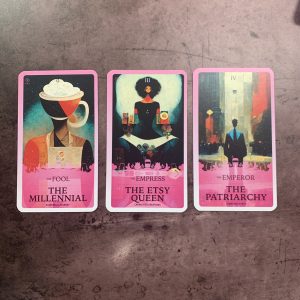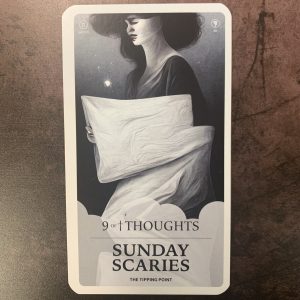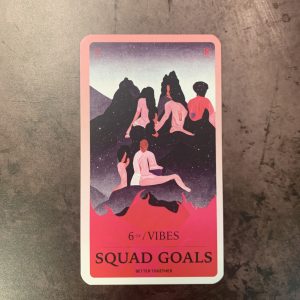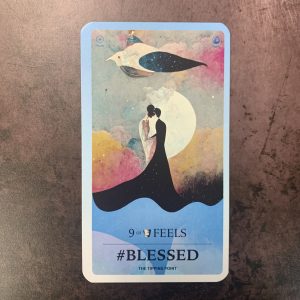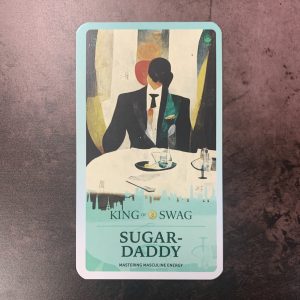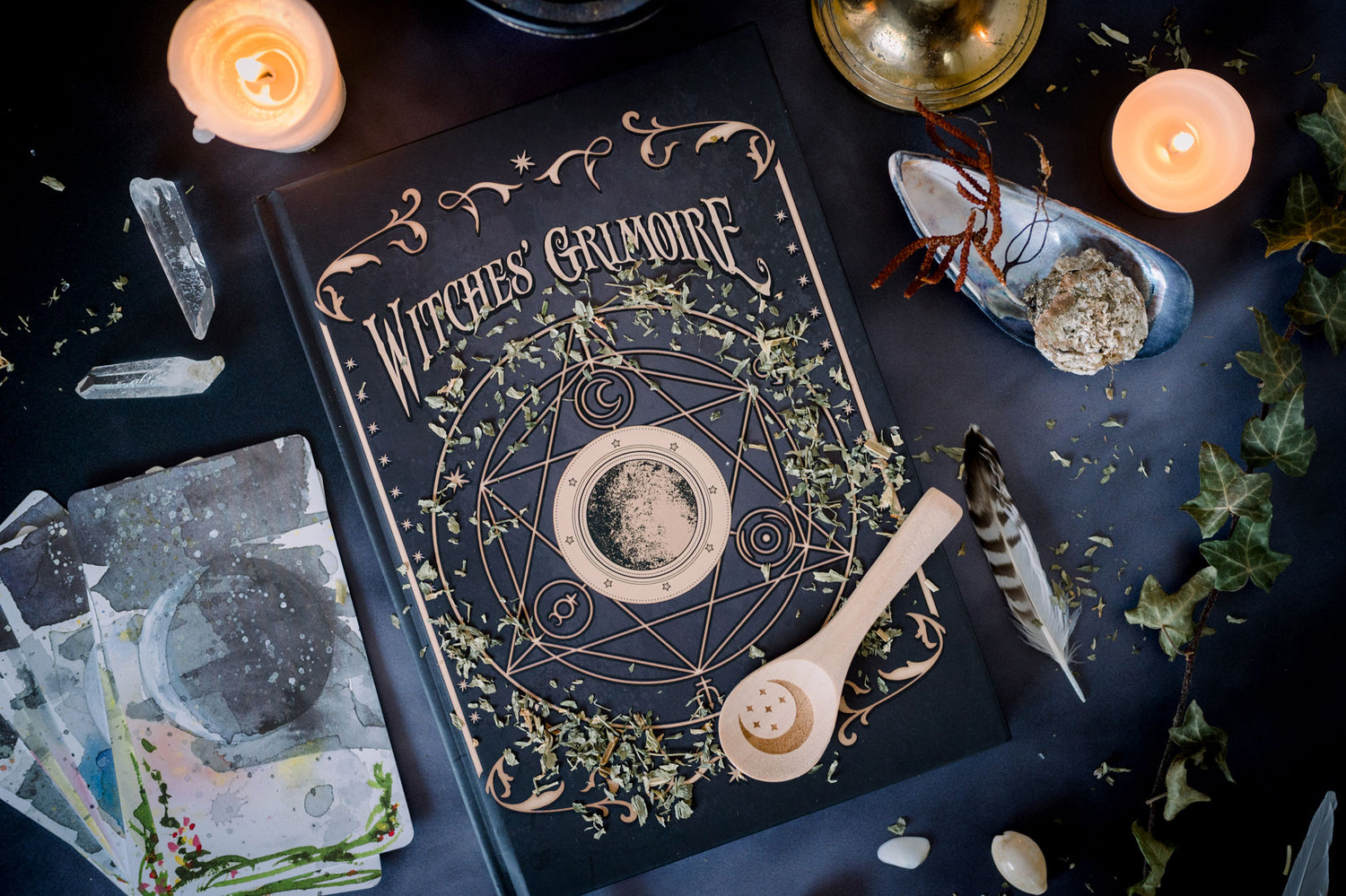 The Mystic Cave
Join our live shopping experience for special products and exclusive deals!
Learn More
Free Shipping

We offer free shipping over $100! Discount automatically applied during checkout.