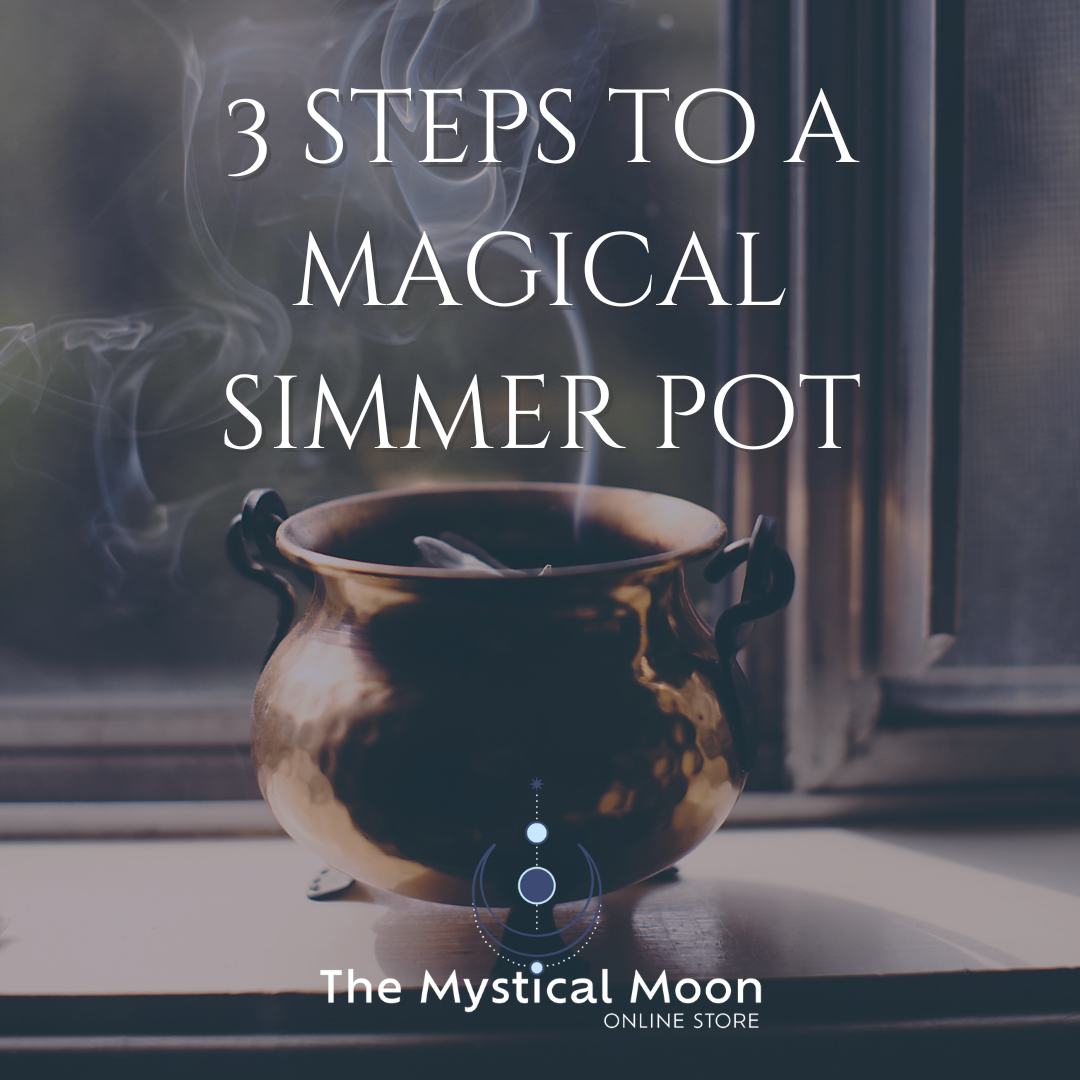 Simmer Pots: 3 Ways to Craft Your Aromatic Magic
Your home is a magical place. It's where you and your family rest, relax, enjoy, and recuperate before you go out into the world again. And while you might not fully embrace the complete cauldron-stirring, nose-wart, broom-flying witch lore, simmer pots are a way to bring the same magic into your daily life. 
Simmer pots incorporate powerful elemental magic, water mixed with herbs from the earth turning into vapor once it's heated with fire. Including all the elements in your spell-work creates a potent magnification of your intention. 
And the best part is that it doesn't have to be complicated! Here are 3 easy steps to remember when using simmer pots. 
1. Choose Your Water Purposefully! 
Where you get your water matters depending on the intention of the spell. You might want to collect water from different places that you travel so you can have it on hand whenever you need. And even if you use filtered sink water in your simmer pots, adding even just a few drops of this water will empower your spell better.
Here are some options:
Rain Water - Purification/ All-Purpose

Storm Water - Power

Sea Water - Cleansing

River Water - Change

Lake Water - Peace

Swamp Water - Boundaries

Dew Water - Love

Snow Water - Rebirth

Icicle Water - Transformation

Harbor Water - Abundance

Moon/Sun Water - Charge
2. Choose Your Herbs Purposefully!
We have other articles written on how to choose the herbs and spices that are best for everyday magic, which you can read here. The following blends are examples of how you can purposefully combine herbs that will put more oomph into your intention. 
Money Blend: 
Peppermint, Cinnamon, Lemon, and Basil
Use this blend when you want to attract more money into your experience. Remember the money is there. It is just waiting for you to have it because once you do, you will flow it to something wonderful, either a fun vacation or saving it so that you feel safe and stable. The energy of money goes where it is wanted. Welcome it in with this aromatic blend!
Ganesha Blend:
Sage, Cinnamon, and Orange
Use this blend when you are trying to work through a difficult obstacle because Ganesh is the deity who can power through obstacles and create space for more of what you love and enjoy. You are a powerful being who has the will to accomplish so many beneficial things! Your manifestations are not only a blessing for you and your loved ones, but also the world at large. When you embrace your power, you create healing ripples of energy that bless all those around you. Tap into the power of Ganesh to help!
Serenity Blend:
Lavender, Jasmine, Chamomile, Sandalwood
This is a great simmer pot to use if you are resting from work, recovering from an illness, or about to fall asleep. Make sure not to leave the pot on overnight for safety. If you suffer from insomnia, use this blend consistently so that you can train your body to know when it's time to sleep. Avoid using this blend if you want to become energized because not only will it slow you down into a relaxing sense of comfort, but the space around you will be more affected as well. Technology might get slower, others in your home might be affected, and even lights could begin to dim unexpectedly.
Archangel Michael Blend:
Clove, Pepper, Lemon, and Bay
Use this blend to cleanse any negativity from your space and to protect your energy. Archangel
Michael is not just any angel, he is the Captain who goes ahead of the rest to destroy enemies before they even arrive. He is also depicted as defeating the fiercest of evils. He is righteous, good, and powerful. Calling upon him means that he will go before you and cut negativity off at the source, causing anyone who has ill intentions to find it impossible to project them onto you. He doesn't do any damage, he just gives people back the energy they are putting out so they can learn to transmute it into peace. When you protect yourself with Archangel Michael, you are lovingly believing that others can rise to the occasion and vanquish their own foes without involving you. 
3. Craft your Pot Purposefully!
Once you've selected your intentions, it's time to assemble your pot and release your intentions into the Universe. Fill the pot a bit more than halfway and breathe purposefully as you add the herbs into your pot, fresh or dried. Stir the herbs clockwise to attract the energy of your choice. Now allow the pot to simmer until most of the water has evaporated into the atmosphere. Keep the pot attended. You never want to leave a pot on heat while you are out of the room or away from the building. 
Those are the 3 easy steps you can take to incorporate simmer pots into your routine! We have already crafted the 4 simmer pot blends mentioned here in this article, which also include a blessing from the Moonstone Priestess, and you can purchase them this week at a discount if you'd like. Otherwise, use your intuition to experiment, and have fun attracting in more of what you desire!